5 Traits of a Great Cloud-Payroll Provider
Here is a handy checklist of the Top 5 things to look for when selecting a new payroll provider: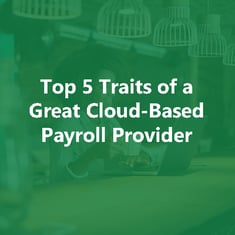 * Experience and expertise
* Track record for innovation
* Superior security
* World-class support
* Demonstrated compliance experience

Moving to the cloud doesn't need to be an arduous task, particularly if you start with payroll and follow these five steps for a successful project.
.
Download the ebook today!