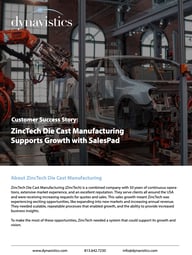 ZincTech, a manufacturing company, was experiencing exciting new opportunities, but their systems couldn't handle the growth. Challenged with too much data and limited access to reporting, ZincTech had a tough decision to make: Waste money on their current system or invest in a new solution to ease their growing pains.
The answer was obvious, so ZincTech recruited Dynavistics, a partner who could understand their processes and meet their needs.
Does this sound familiar? Has your business grown according to plan, or are you stuck, wanting to grow but seemingly unable to? If you're experiencing growing pains, your technology is a significant factor – your system's limitations may be preventing you from operating at full capacity.